DUBAI CHAMBER LAUNCHES 10TH CYCLE OF MOHAMMED BIN RASHID AL MAKTOUM BUSINESS AWARD
---
Posted: Nov 14, 2017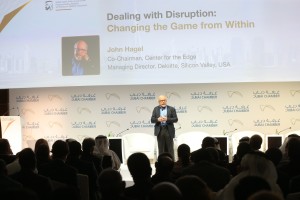 – Event was organised by Dubai Chamber in line with the objectives of the National Program for Happiness & Positivity and UAE Vision 2021
– H.E. Buamim: The Mohammed Bin Rashid Al Maktoum Business Award Program is a major part of Dubai Chamber's efforts to foster a culture of excellence and innovation within business communities in the UAE and GCC
– More than 150 companies have been awarded for their outstanding achievements since the MRM Business Award was established
Dubai, UAE: Dignitaries, government and business leaders, and industry experts from the UAE and around the world gathered in Dubai today for the International Conference launching the 10th cycle of the Mohammed bin Rashid Al Maktoum (MRM) Business Award, and the 2nd cycle of the MRM Business Innovation Award.
The high-profile event, entitled "Drivers of Growth in Organisations of the 21st Century: Harnessing the Human Factor" was organised by the Dubai Chamber of Commerce and Industry in line with the objectives of the National Program for Happiness & Positivity and UAE Vision 2021.
The conference, held at Dubai's Emirates Towers, provided an ideal platform for small and large organisations alike to learn applicable best-in-class business practices from local and global industry experts.
Held under theme "Happiness and Positivity", the event was attended by H.E. Ohood Al Roumi, UAE Minister of State for Happiness and Wellbeing, and several other local and international speakers who highlighted some of the most pressing challenges faced by organisations today, as well as effective strategies to drive efficiency and productivity in a fast-changing business world.
The keynote speech was delivered by H.E. Al Roumi who spoke on the topic of "The Importance of Happiness and Positivity for the Future of Organisations." In her remarks, H.E. Al Roumi described happiness and positivity as two key factors that are influential to the fundamental building blocks of organisations, and pointed out that scientific evidence has proven the important relationship that exists between employee happiness, productivity and profitability.
"Today, we live in a rapidly changing world, with new technologies transforming the labour market. Human capital – which represents the mastermind and driver of growth – will be the one factor that sets the most successful organisations apart. Organisations with happy, motivated and engaged employees will be more productive and profitable. Purpose-driven organisations that help and focus on their employees will thrive. Those that do not go in this direction face the risk of falling behind," said. H.E. Al Roumi.
During a special address, H.E. Hamad Buamim, President and CEO of Dubai Chamber and Chairman of the Steering Committee for the Mohammed Bin Rashid Al Maktoum Business Award, highlighted key factors driving organisational growth in a fast-changing business world, as well as the importance of harnessing the human factor in achieving business objectives.
"With increasing work pressures, changing customer requirements, and fierce competition on the rise, the determinants of success for a 21st century organization are evolving, and evolving fast. Keeping pace with these changes is critical for organisations to sustain their foothold in the market," said H.E. Buamim.
Dubai Chamber's President and CEO noted that it has never been more important for organisations to think outside the box and harness the human factor to remain resilient and competitive. He explained how the Mohammed bin Rashid Al Maktoum Business Award Program has helped companies in the UAE and GCC build capabilities in these areas, and revealed that over 150 companies have been awarded for their outstanding achievements since the award was established.
In his presentation entitled "Dealing with Disruption: Changing the Game from Within", John Hagel, Co-Chairman of the Silicon Valley-based Deloitte Center for the Edge, examined how organisations are dealing with continuous disruption and mounting performance pressures that have intensified with rapid advance of technology.
Hagel noted that barriers to entry and movement are coming down across the world, and explained how this trend is intensifying competition and forcing companies to rethink the way they are running their organisations. He noted that the short-term and profit-driven approach taken by most established organisations today has left little room for employee learning, improvising, and problem solving, adding that many organisations fall short when it comes to motivating employees and creating a work environment where people can be passionate in their roles.
"By rethinking and redesigning the work environment, we can unleash and amplify the passion of workers, so that they are doing something other than predictable and routine tasks. This is key to navigating rapid change and disruption. With regards to the Fourth Industrial Revolution, it is not an opportunity, but an imperative. There is a huge opportunity to be had if we can understand what is required to create that passion in the workplace," said Hagel.
Leading the session entitled "Building an Agile Workforce to Manage Work-Pressure and Drive Sustainable Growth", Sushant Upadhyay, Senior Client Partner, Korn Ferry Hay Group – UAE, pointed out that despite the fact that most business leaders see technology as the top value generator, recent research conducted by the company has shown that talent is actually the most important asset to organisations. According to estimates from Korn Ferry Hay Group, $11.39 is added to gross domestic product (GDP) for every $1 invested in human capital.
For his part, Morris Pentel, Customer Experience Designer and Chairman of the UK-based Customer Experience Foundation spoke about the important connection between the physical and digital customer experience, which he said is merging aspects of sales and service. He stressed the need for companies to understand the needs of their customers and employees, who can help guide organisations towards achieving their goals and objectives.
"Organisational change is about creating new habits. Organisations should be able to adapt and innovate to better serve their customers. They must create an opportunity to rethink processes and come up with ways to make service better," said Pentel.
UK-based Future of Work and Leadership Expert Simon Walker led a session covering the importance of "Leveraging Organisational Capabilities Ahead of Competition." During the session, he identified several barriers to organisational agility, experimentation and rapid execution which included organisational structures, processes, culture, and leadership.
According to Walker, complex problem solving, critical thinking, creativity, people management, and coordinating with others are the top five skills that will be demanded by employers in 2020. He pointed out the fact that startups are leading the way in fostering innovation, agility and experimentation, while established businesses have stronger capabilities when it comes to developing capital, brand and customer-focused strategies.
The conference concluded with an interactive panel discussion that addressed opportunities and challenges associated with forces that are shaping the future of business. Sharing their insights during the session were John Hagel, Sushant Upadhyay, Morris Pentel, and Simon Walker who agreed that organisations must do more to harness the human factor in order to enhance their competitive advantage.
A member of the Mohammed Bin Rashid Al Maktoum Global Initiatives, the MRM Business Award was initiated in 2005 to recognise and celebrate the success of organisations that contribute to the sustainable economic development of the UAE and the wider GCC region.
The MRM Business Innovation Award, launched by Dubai Chamber in cooperation with the UAE Ministry of Economy in 2015, aims to encourage companies across the GCC to embrace innovation. The award places a strategic focus on transforming business models to meet current and future challenges.