DUBAI CHAMBER ORGANISES BLOOD DRIVE & HEALTH CHECK DAY FOR STAFF AND CUSTOMERS
---
Posted: Jan 11, 2018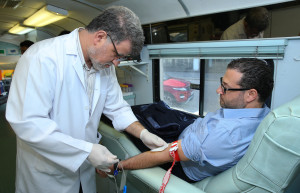 Dubai, UAE: The Dubai Chamber of Commerce and Industry recently organised its annual "Blood Drive & Health Check Day" for staff and customers in cooperation with the Sharjah Blood Transfusion & Research Center, Al Zahrawi Medical Supplies, and the UAE Ministry of Health.
During the event, several participants volunteered to donate blood and received free medical tests. The initiative supported the Chamber's corporate social responsibility efforts, while it also raised awareness about the importance of donating blood to save lives.
H.E. Hamad Buamim, President and CEO of Dubai Chamber, noted that the high turnout of participants in the blood drive reflected a strong willingness among Chamber employees and customers to give back to society. He added that the Chamber organises the event annually with the aim of instilling a sense of responsibility within the Chamber and the wider business community to support humanitarian and social causes.