DUBAI CHAMBER, RIYADH CHAMBER BOOST COOPERATION THROUGH KNOWLEDGE SHARING
---
Posted: Nov 21, 2017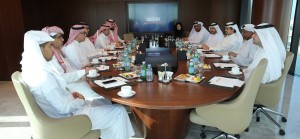 Dubai, UAE: The Dubai Chamber of Commerce and Industry received a high-level delegation from the Riyadh Chamber of Commerce and Industry at its premises yesterday as part of its efforts to promote and facilitate knowledge sharing and cooperation between the two organisations.
The delegation was headed by H.E. Ahmed Bin Ali Al-Suwailem, Secretary-General of Riyadh Chamber; Mr. Faisal Al-Fuhaid, Assistant Secretary-General for Subscriber Services at Riyadh Chamber; and various department directors from Riyadh Chamber. Delegates were received by H.E. Hamad Buamim, President and CEO of Dubai Chamber; Mr. Atiq Juma Nasib, Senior Vice President of Commercial Services, Dubai Chamber; and several other directors of Dubai Chamber departments.
During the meeting, Dubai Chamber officials shared insights, experiences and best practices in the areas of membership services, certification, Certificates of Origin, customer service systems, and smart services.
H.E. Buamim explained that Dubai Chamber is keen to enhance cooperation Saudi Arabia and various chambers of commerce within the kingdom. He noted that Dubai Chamber and Riyadh Chamber can benefit greatly and enhance their competitiveness by sharing knowledge and expertise in key areas.
Saudi Arabia remains the top destination for Dubai Chamber members' exports and re-exports, H.E. Buamim revealed. He noted that the value of member exports and re-exports to the kingdom amounted to AED 87.6 billion between January and October of 2017, marking a growth rate of more than 20% compared to the same period in 2016.
In addition, H.E. Buamim revealed that the number of Saudi companies registered with Dubai Chamber has grown steadily in recent years to reach 2,150, and added that the Chamber aims to provide a favourable business environment where Saudi companies can take advantage of new opportunities opening up in the market.
For his part, Al-Suwailem lauded Dubai Chamber's efforts to support the business community, and facilitate trade and between the UAE and other GCC countries. He stressed the importance of promoting economic cooperation and knowledge sharing, which he says can help Dubai Chamber and Riyadh Chamber achieve common goals.
Following the meeting, the delegation from Riyadh Chamber toured Dubai Chamber's head office and learned about the building's environmentally friendly features. Delegates also visited the Chamber's member relations department where they were briefed on smart customer service systems and efficient business documentation processes.