DUBAI CHAMBER TO HOST INTERNATIONAL CONFERENCE TOMORROW LAUNCHING 10TH CYCLE OF PRESTIGIOUS AWAR
---
Posted: Nov 13, 2017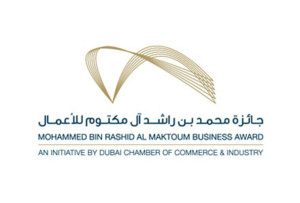 – Speakers include UAE's Minster of State for Happiness and Wellbeing H.E. Ohood Al Roumi, and global experts who will discuss key challenges and trends impacting 21st century organisations
– Event held in line with National Programme for Happiness and Positivity and UAE Vision 2021
Dubai, UAE: The Dubai Chamber of Commerce and Industry has finalised its preparations to host the International Conference launching the 10th cycle of the Mohammed bin Rashid Al Maktoum (MRM) Business Award, and the 2nd cycle of the MRM Business Innovation Award.
The high-profile conference, entitled "Drivers of Growth in Organisations of the 21st Century: Harnessing the Human Factor," will be held on Tuesday, November 14th, at Dubai's Emirates Towers.
Held under motto, "Happiness and Positivity", the event will be attended by H.E. Ohood Al Roumi, UAE Minister of State for Happiness and Wellbeing, who will be speaking about the importance of nurturing happiness to improve the organisational bottom line.
Other sessions will involve the participation of leading industry experts from Silicon Valley, the UK, and the UAE who will examine key challenges faced by organisations, including continuous disruption, increasing workforce pressures, and changing customer requirements.
Sessions will also focus on the importance of harnessing the human factor in driving sustainable growth, in addition to other core values and strategies that can help organisations become more agile and resilient in a fast-changing business world.
The conference will provide an ideal platform for small and large organisations alike to learn applicable best-in-class business practices from leading industry experts. The event will be attended by dignitaries, distinguished local and international top executives and guest speakers, while it will be open to the UAE and GCC business communities.
H.E. Hamad Buamim, President and CEO of Dubai Chamber and Chairman of the Steering Committee for the Mohammed Bin Rashid Al Maktoum Business Award, highlighted the importance of this year's theme and focus.
"Business communities around the world are increasingly looking for new and effective ways to deal with continuous disruption and build a resilient and agile workforce. This conference will offer valuable insights and effective tools and strategies that can help organisations and their employees work smarter and create sustainable change," said H.E. Buamim.
The International Conference, organised by Dubai Chamber, supports the objectives of the National Programme for Happiness & Positivity and the UAE Vision 2021.
A member of the Mohammed Bin Rashid Al Maktoum Global Initiatives, the MRM Business Award was initiated in 2005 to recognise and celebrate the success of organisations that contribute to the sustainable economic development of the UAE and the wider GCC region.
The MRM Business Innovation Award, launched by Dubai Chamber in cooperation with the UAE Ministry of Economy in 2015, aims to encourage companies across the GCC to embrace innovation. The award places a strategic focus on transforming business models to meet current and future challenges.