DUBAI CHAMBER'S AZERBAIJAN OFFICE HOSTS EVENT TO PROMOTE DUBAI AS AN ATTRACTIVE STARTUP HUB
---
Posted: Dec 10, 2017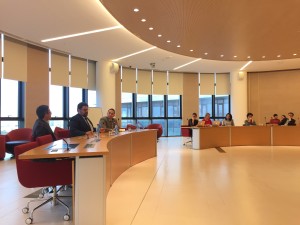 Dubai, UAE: The Dubai Chamber of Commerce and Industry's representative office in Baku recently organised and hosted an event that was attended by 55 Azerbaijani students who were keen to learn more about Dubai's thriving entrepreneurial eco-system and the various advantages that the emirate offers startups.
The event, held at the Azerbaijan Diplomatic Academy, falls in line with Dubai Chamber's efforts to promote Dubai internationally as a preferred business hub, and attract leading global companies to specialised sectors within the emirate.
Mr. Omar Khan, Director of International Offices at Dubai Chamber, led the event and informed participants about the key objectives of the Dubai Plan 2021 and the Dubai Industrial Strategy 2030. He also provided an overview of Dubai Chamber's various initiatives that support startups, SMEs and entrepreneurs in Dubai, including the Tejar Dubai entrepreneurship development programme, Dubai Startup Hub, and the Dubai Smartpreneur Competition.
"The UAE's startup community has grown by leaps and bounds over the last decade, as more youth look to entrepreneurship as an attractive alternative to employment. Today, Dubai has become a leading hub for startups and entrepreneurs who want to establish a presence in the Middle East and access markets across Asia and Africa," said Khan.
Dubai Chamber's Director of International Offices revealed that Dubai has seen an increase in the number of funds, accelerators, competitions and development programmes that cater to entrepreneurs and SMEs in recent years, and encouraged Azerbaijani students and entrepreneurs to visit Dubai and explore new opportunities opening up in the market.
For his part, Mr. Fariz Ismailzade, Executive Vice Rector at the Azerbaijan Diplomatic Academy, expressed his strong willingness to cooperate with the University of Dubai, and promote knowledge sharing between the two institutions.
Since Dubai Chamber opened its Baku office in 2012, it has been actively working to strengthen Dubai's economic relations with Azerbaijan, and establish important relationships and partnerships with key stakeholders from the country's public and private sectors, as well as the academic community.