DUBAI CHAMBER MEMBERSHIP HITS 217,000, MAKING IT ONE OF THE WORLD'S LARGEST MEMBERSHIP-BASED CHA
---
Posted: Jan 16, 2018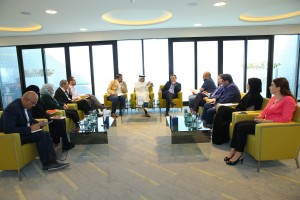 – Saudi Arabia remained top export and re-export market for Chamber members with a value of AED 103 billion
– Dubai Chamber delegations visited 61 cities and attended 87 international events in 2017, strengthening Dubai's position as a global business hub
– Buamim: Chamber's 2017 figures reflect robust economic growth in Dubai, and growing confidence in the emirate has strengthened its position as a global hub for future industries
– Chamber plans to open 3 new representative offices this year in India, Argentina and Panama
Dubai, UAE: A total of 16,300 companies joined the Dubai Chamber of Commerce and Industry as members in 2017, bringing total membership to 217,000 and cementing the non-profit public organisation's position as one of the world's largest membership-based chambers of commerce.
The Chamber's membership figure for 2017 marked an 8% increase compared to the previous year. Exports and re-exports of Dubai Chamber members grew 2% year-over-year to reach AED 277 billion in 2017. Saudi Arabia remained the top export and re-export market for Chamber members with a value of AED 103 billion. This figure reflects a growth rate of 17% compared to the value of goods and products exported and re-exported by Chamber members to the kingdom in 2016.
The number of certificates of origin (COs) issued by the Chamber reached 880,000 in 2017. The Chamber issued and received 6,000 ATA Carnets for goods worth AED 5.6 billion during the same period, with the total value increasing 80% compared to 2016. The uptick highlighted growing demand for the service which is designed to facilitate international trade and improve ease of doing business in Dubai.
H.E. Hamad Buamim, President and CEO of Dubai Chamber, explained that the Chamber's international expansion strategy was instrumental in attracting foreign companies to Dubai, and noted that the Chamber's representative offices around the world continue to play an active role in promoting Dubai as an attractive business hub.
He explained that the 2017 figures released by the Chamber reflected the robust growth of Dubai's economy, as well as the emirate's resilience to global challenges. Trade, tourism and logistics remain key contributors to Dubai's growth last year, he said, adding that growing global confidence in the emirate is strengthening its position as a global hub for future industries.
"2017 was a transformational year for Dubai marked by remarkable economic and social progress, as well as the adoption of forward-thinking strategies and emerging technologies that will shape the future of the emirate and support its mission to become one of the most innovative cities in the world in line with the vision of H.H. Sheikh Mohammed bin Rashid Al Maktoum, Vice President and Prime Minister of the UAE and Ruler of Dubai," said H.E. Buamim.
Inbound delegations
The Chamber received 1,013 visiting delegations from 58 countries, which were joined by 2,056 government and business leaders, including heads of state from France, Paraguay, Costa Rica, Colombia, Mauritius, Seychelles, Rwanda, Latvia, Uganda and Lithuania. The Chamber's international offices held 809 meetings with potential investors interested in establishing businesses in the emirate.
Outbound delegations
In 2017, Dubai Chamber led delegations to 49 countries and 61 cities around the world and participated in 87 international events. The Chamber expanded its global footprint last year, by opening a representative office in Brazil, its first in Latin America, while it leveraged the Global Business Forum platform to promote economic cooperation between Dubai and promising Latin American markets.
In addition, the Chamber revealed plans to open three new representative offices in India, Argentina and Panama in 2018, bringing the total number of international offices to 11.
Review of economic legislation
In line with its commitment to create a favourable environment to support business growth, Dubai Chamber reviewed 43 laws, by-laws, and cabinet and ministerial decisions. The salient points were highlighted to uphold the best interests of Dubai's business community. The evaluated findings of the Technical Legal Committee will be submitted to the Supreme Legislation Committee in Dubai.
Settlement of commercial disputes
Dubai International Arbitration Centre (DIAC), an initiative of Dubai Chamber, registered 208 cases in 2017 which fell into the categories of arbitration, conciliation, adjudication and appointing authority.
Dubai Chamber's Legal Services Department received 564 business cases in 2017, responded to 41 legal queries related to commercial laws and regulations, and organised 8 events, including workshops and seminars covering various aspects related to doing business in Dubai and the UAE.
Business and Economic Research
With its focus on enhancing business competitiveness, Dubai Chamber's Economic Research Department provided regular updates and informed insights to help businesses understand the market and customer trends.
The department compiled 32 market intelligence, sector-specific and overall business trend reports in 2017, and also published 48 economic bulletins, and 48 fact sheets. A total of 794 business reports were sold through the Credit Rating service, an increase of 34% over 2016.
Centre for Responsible Business
In 2017, Dubai Chamber's Centre for Responsible Business organised
21 events that were attended by 2,370 delegates from 610 organisations.
As part of the Year of Giving activities, the Centre organised the Dubai Dialogue Conference, which was attended by 145 participants from 69 organisations. The event provided a forum for participants from government agencies and businesses to discuss and share best practices on how to contribute towards the implementation of the National Strategy for the Year of Giving.
The Dubai Chamber Sustainability Network increased its membership to 60 and 11 new task forces were formed, taking the total number to 18. The ENGAGE Dubai programme welcomed 20 new members and organised the Give & Gain Day, a volunteering initiative for businesses. Over 1,200 volunteers from 29 ENGAGE Dubai Corporate Members contributed 4,279 volunteering hours to benefit 2,729 individuals through projects by 17 community organisations.
Dubai Association Centre
Dubai Association Centre (DAC) issued 10 new licences in 2017, taking the total number of licensed international associations to 42, reflecting a growth rate of 31% compared to 2016.
DAC provides the necessary framework for regional and global associations to open regional representative offices and expand their reach in the Middle East, using Dubai as a strategic gateway. The Centre was launched in 2014 as a joint venture between Dubai Chamber, the Dubai Department of Tourism and Commerce Marketing and Dubai World Trade Centre.
Supporting SMEs, start-ups and entrepreneurs
Dubai Chamber stepped up its efforts to support SMEs, start-ups and entrepreneurs through a wide variety of programmes and initiatives, which include Tejar Dubai, Dubai Startup Hub, and the Dubai Smartpreneur Competition.
Five commercial projects were launched under Tejar Dubai in 2017, bringing the number of projects launched under the entrepreneurship development programme to 30. In addition, 18 workshops were organised for programme participations, covering various topics and issues related to starting a business in Dubai. During the year, AED 5.2 million in funding for participants' business ventures was secured through partnerships and financing agreements with local banks, bringing the total amount of financial support offered through the programme to AED 15.2 million.
Dubai Chamber concluded the second edition of the Dubai Smartpreneur Competition in collaboration with Dubai Smart Office and recognised the top three winners during a ceremony held during ArabNet 2017. During the second cycle of the competition, the Chamber received more than 700 innovative ideas compared to 350 innovative ideas in the first round.
Five-star rating
H.H. Sheikh Hamdan bin Mohammed bin Rashid Al Maktoum, Crown Prince of Dubai and Chairman of the Executive Council of Dubai, unveiled a 5-Star plaque at Dubai Chamber's Customer Happiness Centre, which reflects the Chamber's 5-star rating under the Star Rating programme.
Strategic Partnerships
Dubai Chamber announced a strategic partnership with Souq.com to enhance cooperation and help companies in Dubai boost their online presence and benefit from opportunities in the fast-growing e-commerce market. Under the terms of the agreement, members of the Dubai Chamber can benefit from a range of exclusive features of the services of Souq.com, in addition to training sessions.
Google and Dubai Chamber announced a long-term partnership to help businesses across Dubai get online. The agreement includes a pilot programme that extends for three to four months, while both partners will collaborate on future digital training sessions designed to help businesses better understand the value of using online channels to grow and acquire new customers.
Key Initiatives and Events
Mohammed Bin Rashid Al Maktoum Business Awards
Under the patronage of H.H. Sheikh Mohammed bin Rashid Al Maktoum, Vice-President and Prime Minister of the UAE and Ruler of Dubai, Dubai Chamber hosted a prestigious ceremony concluding the 9th cycle of the Mohammed Bin Rashid Al Maktoum (MRM) Business Award and the first edition of the MRM Business Innovation Award.
A total of 32 winning companies from the UAE and GCC were honoured during the ceremony. To date, over 150 companies from the UAE and GCC have been awarded for their outstanding achievements, while more than 1,400 companies have participated in the award programme since its inception in 2005.
The Chamber also organised an international conference in Dubai to launch the 10th cycle of the MRM Business Award entitled, "Drivers of Growth in Organisations of the 21st Century: Harnessing the Human Factor" which was attended by H.E. Ohood Al Roumi, UAE Minister of State for Happiness and Wellbeing.
World Retail Congress
The 11th edition of the World Retail Congress was held in Dubai last year, organised in cooperation with Dubai Chamber under the patronage of H.H. Sheikh Mohammed bin Rashid Al Maktoum, Vice President and Prime Minister of the UAE and Ruler of Dubai. Dubai Chamber helped bring the Congress to Dubai for the second consecutive year, and the premier event was a great success as it attracted 1,500 local and international industry stakeholders.
Trade missions to Latin America
Dubai Chamber organised two high-level trade missions to Latin America in 2017, which covered Brazil, Paraguay, Argentina, Panama, Costa Rica and Colombia. The two missions were led by H.E. Majid Saif Al Ghurair, Chairman of Dubai Chamber, and joined by dignitaries and businessmen in Dubai. The two missions achieved their objectives in introducing investors to promising foreign markets through a series of dialogues and discussions with public and private sector stakeholders.
Dubai Hamburg Business Forum
Dubai Chamber, in cooperation with Hamburg Chamber of Commerce, organised the 6th Dubai Hamburg Business Forum in 2017 under the theme "Digitalisation – The Driver of Tomorrow's Growth." The forum aimed to explore synergies and enhance cooperation in the areas of smart mobility, digital transformation and fintech.
Global Business Forum on Africa
Dubai Chamber organised the 4th Global Business Forum on Africa in Dubai last year under the theme "Next Generation Africa." The forum saw strong high-level participation with four African heads of state, 12 ministers and senior officials attending the event. In total, 1,500 decision-makers and industry experts from 70 countries participated, while 375 bilateral meetings were held on the sidelines of the event.
Islamic Economy Award
Dubai Chamber, in partnership with the Dubai Islamic Economic Development Centre (DIEDC) and Thomson Reuters, organised the 5th Islamic Economy Award Ceremony in the presence of H.H. Sheikh Hamdan bin Mohammed bin Rashid Al Maktoum, Crown Prince of Dubai and Chairman of the Executive Council. During the award ceremony, 8 companies and individuals were honoured for their efforts in contributing to the growth of Dubai's Islamic economy sectors.
Dubai Innovation Index
Dubai Chamber won the prestigious award for "Best Unconventional Project" for its Dubai Innovation Index at the 2017 World Chambers Competition in Sydney. The Dubai Innovation Index has become a key tool for measuring innovation output within Dubai's business community.
UAE-France Business Forum
The UAE-French Business Forum was attended by H.E. Emmanuel Macron, President of France, who gave a special address during the event which aimed to encourage economic cooperation between the two countries. Dubai Chamber organised the Forum in cooperation with the French Embassy in the UAE and the French Business Council in Dubai during the French President's first diplomatic visit to the UAE.
Dubai Association Conference
The Dubai Association Centre marked a milestone with the hosting of the first Dubai Association Conference as a joint initiative of Dubai Chamber, the Dubai Department of Tourism & Commerce Marketing and Dubai World Trade Centre.
The two-day event was attended by over 300 delegates – comprising association executives from regional and international associations, government representatives, university faculties and students as well as other professionals from around the world.
The conference served as an ideal platform for regional and global associations to network, develop their activities, share best practices, strengthen membership, and learn more about the advantages of operating in Dubai.
VAT workshops
In cooperation with the UAE's Federal Tax Authority, Dubai Chamber organised two workshops which aimed to provide the business community with more clarity on the procedures and rules associated with value-added tax in the UAE. More than 900 private sector representatives from Dubai participated in the workshops.