DUBAI CHAMBER SUPPORTS UAE'S YEAR OF GIVING WITH 24 CSR INITIATIVES IN 2017
---
Posted: Jan 08, 2018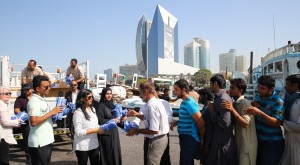 Dubai, UAE: The Dubai Chamber of Commerce and Industry has revealed that it has organised a total of 24 corporate social responsibility (CSR) initiatives in 2017 which supported the UAE's Year of Giving and benefitted more than 20,000 people across five countries.
Throughout the year, the Chamber took the Year of Giving initiative abroad by organising donations in countries where it operates representative offices. Educational supplies were donated and distributed by Chamber staff to several underprivileged schools in Ghana, Mozambique, Ethiopia, and Azerbaijan.
In cooperation with the China Chamber of International Commerce, Dubai Chamber recently donated medical supplies to the Shanghai Red Cross which were used to train volunteers to care for more than 10,000 elderly people.
H.E. Hamad Buamim, President and CEO of Dubai Chamber said:
"The Year of Giving was a major focus of our international offices in 2017 as our teams on the ground promoted this initiative around the world and helped strengthen the UAE's position as a global humanitarian leader. The donations fall in line with our CSR strategy and strong commitment to contributing to society wherever we operate."
Dubai Chamber's President and CEO added: "We plan to expand our charitable efforts in 2018 as we celebrate the humanitarian legacy of the late Sheikh Zayed bin Sultan Al Nahyan, and follow in his footsteps. The Chamber will support this national initiative with the aim of instilling such values and principles within the business community."
Other CSR-focused initiatives organised by Dubai Chamber in 2017 included 176 health checks for staff and customers, a fundraising event for Al Noor Center for Persons with Disabilities, staff donations of books, clothes and toys to the Dubai Charity Association.
In addition, Chamber staff raised money for the Al Jalila Foundation by participating in the 2017 Dubai Holding Sky Run, while the Chamber partnered with Angel Appeal to wrap and distribute gifts to 1000 Dhow sailors.